WWE – Draft/Brand Split/State of WWE Questions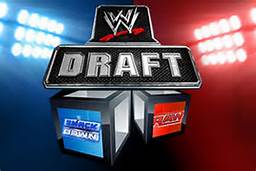 Two weeks ago, the WWE held their Brand Draft where they divided the talents up (and called up some of the NXT competitors) to fill out the RAW roster and the SmackDown Live roster. This was done because SmackDown Live was going to be just that – a new, live version of the SmackDown program on Tuesday nights (instead of the pre-taped version they were showing on Thursday nights).  How did it go?  What do they hope to accomplish?  What will the future hold?  I attempt to answer these and several other questions below.
What is the WWE hoping to accomplish? – Well the simple answer is that they want to make more money. They want to expand the brand, establish new talent, offer new variations in the product and get more subscribers to the network. By having a draft and splitting the rosters, they can bring new excitement to not only the "new" version of SmackDown, but also the re-vamped version of RAW. Plus, they may get more people excited in the NXT brand as well.
 Wait – didn't the WWE do this before? – Yes and No. The WWE would hold an annual draft where several talents would change shows with a chance to shake up the product. Talents would juggle back and forth between RAW, SmackDown and ECW (RIP). But things quickly got muddled – some talents would show up on other shows, PPV's got messy because half the audience wouldn't know certain feuds and some talents proved they actually had no talent, no matter what show they were on. So eventually it regressed into two main shows where talents would bounce back and forth.
So what's different this time around? – Another simple answer for this one is that SmackDown is actually live. But that's too easy. WWE is making a concentrated effort to establish certain talents and show that they are able to evolve with the times and give the fans what they actually want. Mixing up these talents and giving them established shows gives them the chance to do so. Not only will this give certain performers the chance to shine on their own (Bray Wyatt, AJ Styles), it also gives the new additions a bigger platform to showcase their ability than they previously had on NXT. It will also give performers on the SmackDown brand the chance to perform on a live TV show. This may not sound like much, but in the past most people (myself included) would read the recaps of what happen on SmackDown to determine if anything would be worth watching. Now if you want to see certain talents perform, you need to watch live which only enhances the brand and the talent, while possibly bringing in new viewers.
Are they going to have separate "champions" as they did in the past? – It certainly seems that way. After WWE Champion Dean Ambrose landed on SmackDown, RAW was deprived of the highest champion. On the first RAW of the "new era", it was announced that there would be a newly-established Universal Champion for the RAW brand. This accomplishes two things – (1) It gives both shows a top-tier champion and something everyone on the roster can strive for and (2) It gives the WWE's flagship show a champion without having to resort to having one title bounce back and forth between shows.
Which Championship will be considered "better"? – I have no idea. I have a feeling that will depend on who holds which at any given time.
Will they be going to separate Pay-Per-View events as well? – This is still up in the air. WWE will still have the Big four PPVs (Royal Rumble, WrestleMania, SummerSlam and Survivor Series) which will be combined shows. It was announced that after SummerSlam, SmackDown will be holding the Backlash PPV. It remains to be seen if RAW will hold their own that same month or just take the next one. In my opinion, two PPVs per month will be overkill and will not help grow the product. You are already compacting storylines and feuds when you have monthly PPVs and adding separate PPVs per month will only exacerbate that issue. My opinion – WWE should eliminate several PPVs anyway and only have between 8-10 per year. That way you can actually have a decent buildup to a solid feud and storyline without having to rush in and out of things just to fill a card.
So who actually "won" the Draft? – This is strictly a judgment call based on who you tend to like and dislike. In my opinion, RAW was the clear winner – they got established guys (Rollins, Lesnar, New Day, Jericho, Cesaro), new favorites (Kevin Owens, Finn Balor, Enzo & Cass), a strong women's division (Charlotte, Sasha, Nia Jax) and others to fill out the roster. SmackDown got Ambrose, John Cena, Styles, Del Rio, Wyatt and others. Personally many of my most disliked wrestlers ended up on SmackDown (Wyatt, Del Rio, Orton) so I was very happy. Of course, everyone is entitled to their own opinion.
Were there any "surprises" in the Draft? – Keeping in mind that this entire process is scripted and everyone knew exactly who was going where and when they were going beforehand, there can be a few legitimate surprises found in there. Lesnar getting picked at #8 overall was a surprise to me, seeing as he is a part-time worker (at best) and coming off of a failed drug test after his last UFC fight. Kevin Owens falling all the way to #18 was a surprise, considering I think he is a legitimate Top-10 guy right now (although this may be part of an ongoing storyline with him). Tag teams staying together (such as New Day, Enzo & Cass, The Club) were a pleasant surprise. I was scared they might break a bunch of these guys up now that the tag division is getting really good but it looks like they may give it some more time to really thrive.
After drafting up multiple NXT talents, will that brand take a step back? – Doubtful. Keep in mind that multiple NXT talents have been called up previously (Rusev, Neville, KO, Charlotte, Sasha, Sami Zayn) and the brand keeps on trucking along. This year's draft called up established talents like Finn Balor and American Alpha, along with some newer talents that have room to grow (Nia Jax, Mojo Rawley, Alexa Bliss and Carmella). Adding in the call-up to the main roster of Bayley (assuming she stays and probably comes to RAW) shows that NXT has multiple talents just waiting to be promoted. The NXT roster is still loaded with talent (Samoa Joe, Austin Aries, The Revival, Shinsuke Nakamura) and they have talents getting ready to debut which will be great (Bobby Roode). This means that NXT will continue to be a godsend for the WWE brand. Not only does it act as a "minor-league WWE" allowing talent to improve and perfect their ring acumen and mike skills, it allows the talents to accumulate a fan following that will accompany them to the inevitable roster call up (if you are skeptical that this is true, just check the crowd reaction when Bayley came out at the last PPV).
What would your draft have looked like? – Glad you asked. In a perfect world, my WWE draft would have been: (1) Seth Rollins (2) Kevin Owens (3) Enzo & Cass (4) AJ Styles (5) Sasha Banks (6) Finn Balor (7) New Day (8) Samoa Joe (9) Charlotte (10) Austin Aries.
I think that is enough questions for one sitting. Let's enjoy the new WWE Universe and see how it plays out in the next few weeks setting up SummerSlam.  It should be an interesting time.