2018 Royal Rumble and Road to WrestleMania
Updated: January 31, 2018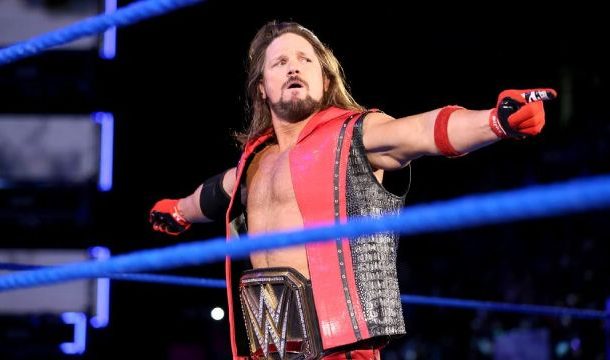 Well this year's Royal Rumble has come and gone and we are officially on the Road to WrestleMania. The Rumble is typically the most anticipated PPV of the year since it's the time for rampant speculation on who might debut, which legends might return and who will the "powers that be" allow to be a part of the main event at WrestleMania?  It's also usually the most disappointing PPV of the year because everyone gets upset when their picks don't debut, don't win and we get another John Cena main event at the biggest show of the year.  How did this year's event stack up?  What were the surprises and disappointments?  Where does it seem like we are headed?  Let's start with some Rumble observations.
I'm not going to bother commenting on the preshow matches other than to say I'm a huge Bobby Roode fan. Glad that guy got fast-tracked through NXT and is on the main roster. He will be fun to watch for a few more years.
The first match was between AJ Styles and Sami Zayn/Kevin Owens. Not a bad match, but not the typically great match you may expect involving Styles and KO. Styles wins and continues to show why he is the best guy on the roster right now. And second place is not even close.
The Smackdown tag match was ok, but nothing to write home about. I'm excited about Chad Gable though – he's fantastic in the ring. His persona could use a little work, but nothing but good things ahead for him.
The men's Rumble is the 3rd match on the card – WHAT??????
After having to scramble to get it organized and pause the PPV for 10 minutes, we got our Rumble pool organized. What the heck Vince? Why is this match so early?
The entrants coming in every 90 seconds is bad. You don't let any rhythm get established and it makes the match seem rushed.
Rusev and his "Rusev Day" gimmick are crazy over right now. It's strange how this guy has not gotten more of a push lately. Been buried on the Smackdown roster for more than a year.
The Heath Slater getting beaten up before getting in the ring by 5 guys was pretty funny. Not so funny when he immediately eliminates Sheamus as soon as he steps in (I had Sheamus as one of my pool choices of course).
Elias gets the second biggest pop of the night (behind Rusev) when he comes out. I definitely want to "walk with Elias". That guy is a mix of Macho Man and The Honky Tonk Man which is not a bad combo to be. I expect big things from Elias in the next year or so.
So apparently Sami and KO jump Tye Dillinger backstage and Sami steals his spot. I think the WWE needs to establish some clear rules here for the Rumble. Is this legal? Next year we should just have a bunch of guys waiting backstage and just jumping people left and right to steal their spots.
I guess now Tye Dillinger and Curtis Axel have unofficially won the Royal Rumble in the last few years (both guys were official entrants but were never officially eliminated).
Nakamura comes out at #14 (I also had 14 in the pool – success!!)
Kofi Kingston comes in and performs his "defying elimination" gimmick again. Not as great as years past, but the use of the pancakes was great.
Our first surprise entrant – "Stand Back. There's a Hurricane Coming Through". Great to see Shane Helms back. Hope you didn't blink, because he was gone pretty quick.
Both Adam Cole and Andrade "Cien" Almas make their main roster debut from NXT in the Rumble. Hopefully they will do better than the aforementioned Tye Dillinger (who debuted in the Rumble last year and was never seen again until this year).
Second surprise of the night – Rey Mysterio is back. Great pop for Rey. It will be interesting to see where they go with him. Does he go right to 205 Live to give them some juice? Or is he going to work a Brock Lesnar type schedule?
Final entrant is the "returning" Dolph Ziggler. Small surprise here but good to see him back.
Final six are Cena, Orton, Rey, Balor, Nakamura and Reigns. Nice "old-school" vs "new-school" showdown here.
Orton and Rey are out leaving the Final Four. You can feel the crowd getting mad because they are terrified they will see either Cena or Reigns win.
Nakamura takes out Reigns to win the spot at WrestleMania (YES – I win the pool). Great job by the bigwigs to make that decision. If Reigns would have won in Philly again, the fans may have burned that arena to the ground.
The Raw tag match was kinda boring. The Bar wins their belts back. In the shock of the night, Jason Jordan draws more heat than either Cena or Reigns.
The triple threat match between Kane/Lesnar/Stroman is next. I'm sorry but I'm completely tired of the whole Stroman storyline. I know I'm probably in the minority here, but please stop. All we see, week after week, is some stupid feat of strength from him. But when it comes time for a match, he doesn't win. And of course, they aren't going to let Lesnar lose to that guy. So what are we doing here?
Women's Rumble is the main event and show closer. Um, ok?
I won't get too in-depth for the women's Rumble. Is it ok for me to say it was a little boring? I understand why they wanted it to be the closer/main-event. But man, it was not a great match.
Stephanie McMahon joined the commentary team for the match. I can safely say, without exaggeration, that she is the worst play-by-play announcer that I have ever heard. And I've heard a lot. That was brutal.
Lots of returning "Divas" for this match. I put "Divas" in quotes because I'm not sure we are supposed to still use that term. Is it still allowed? Anyway – Lita, Torrie Wilson, Molly Holly, Michelle McCool, Vickie Guerrero (technically I guess she's not a Diva, but I will include her here), Kelly, Jacqueline, Beth Phoenix, Nikki Bella, Brie Bella and Trish Stratus all make their returns.
Lita, Molly and Trish still look like they could fully compete in today's female superstar environment. Molly looked fantastic in the ring. Trish looked fantastic period.
Asuka wins by eliminating Nikki Bella. Solid.
After the match, Ronda Rousey comes out, making here WWE debut. I love the whole Roddy Piper homage thing, but maybe you should find a jacket that's about two sizes smaller?
Seemed a little disjointed at the end. Rousey couldn't decide whether she wanted to be intimidating or giddy. So she did both. And pointed at the WrestleMania sign three separate times. OK – we get it. We will see you at WrestleMania.
So that's the PPV recap. Overall a good, not great show.  I like the winners and was ok with the Rousey surprise at the end.  Where do we go from here?
Let's start with the Rousey angle. Apparently she's been training for the full-time wrestling gig for the last few months.  She's currently finishing up a movie, then she will be with WWE full-time.  So where does that put her for WrestleMania?  Couple of scenarios:
Asuka decides on her opponent (probably Charlotte, which would move her to Smackdown) and Rousey gets a match with the other champ (which would then put her on Raw, which is better for both her and Raw).
Rousey has a match with Asuka for the title spot. This is highly doubtful since they won't throw Rousey in a match right off the bat with Asuka and they don't want to have Asuka lose so quickly to a "green" wrestler when they have spent so much time building her up.
They don't put Rousey in a title match immediately. Instead, they revisit the angle with her and Stephanie from last year. Maybe they have a match? The more likely scenario is a mixed-tag match between Stephanie & Triple H and Rousey and a mystery partner. Perfect scenario for The Rock to return at WrestleMania.
Personally, I like the Rousey signing. It gives WWE a big-name female superstar and the use of a popular performer to boost their ratings.  It also gives Rousey the opportunity to keep her name out there and regain some of the momentum that she lost by getting bounced out of MMA.  Win-win scenario here.
So where does that leave us for the Men's side? Well, the Smackdown title match is set with Styles vs Nakamura.  Not much to say here but this is the leader in the clubhouse for match of the night.  Personally, I think they should kinda leave this match alone and not build up to much of an angle for it.  Not needed – these guys have history and ability that make it a high-profile match without any work.  Leave it at that.
The other interesting Smackdown storyline is the whole KO/Sami/Shane/Daniel Bryan angle. The big question is will Daniel Bryan make his return for a match at WrestleMania?  Maybe a mixed tag match?  Or will they just go forward with a Bryan/Shane match?  Personally, I don't think Bryan gets cleared to compete so he may end up leaving WWE when his contract is up.  Then he turns up in New Japan or ROH to keep wrestling. But that is just wild speculation on my part.
On the Raw side I imagine that Lesnar will be facing off with either Reigns or Stroman (or both) for the title. Enough said.  I officially have zero interest in that match.
Where will Seth Rollins end up on the card? It seems like they are setting up a Rollins/Jordan angle that might end up in a WM match.  I would not be a fan of that – seems like an immense waste of Rollins' ability to end up with a match with a relatively small payoff.
So what about the Undertaker? Will he show up for a match?  When he appeared on the 25th Anniversary show, it was believed he would be there to hype up a WM match.  But he ended up giving a rambling promo that didn't really say anything.  If he does show up, who is he facing?  My guess is either Cena or Reigns.  Not sure I really want to see either of those.  Especially since WWE has spit all over Taker's WrestleMania legacy by having him lose to both Lesnar and Reigns in the past few years.
Rumble down, Elimination Chamber coming up and WrestleMania on the horizon. How will it shake out?  Who steps up and who disappoints?  It's usually a fun ride.  Let's all buckle up and see where the road takes us.