A 76ers rant, and not in the direction you are thinking…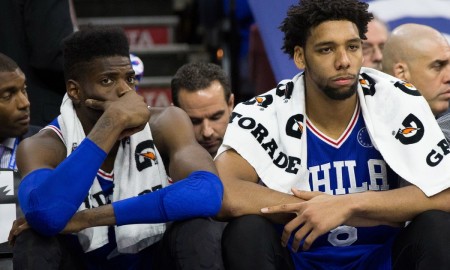 I'll try to make this short and not ramble (as I tend to do), but there is something that I have wanted to get off my chest about the 76ers and "the process" for awhile now.
First, let me back up a tiny bit. I've been a fan of the 76ers for the better part of twenty years. I'm in my early 30's and didn't watch a lot of sports growing up (at least not hardcore until I was twelve or thirteen or so). My first real positive memory came in 2001 with the magical run to the Finals and winning that first game against the Lakers (who were previously unbeaten in the playoffs), which included the iconic moment of Iverson stepping over Tyronn Lue.
As Iverson got older and the team began to regress, they fell into a state which I can only describe as being "content with mediocrity". Sure, they took their shots – resigning Iguodala, giving Elton Brand a max deal, and the infamous Bynum trade, but it seemed like they were perfectly content with being the 6th-8th seed in the subpar Eastern Conference every year.
The only real success they have had in the past decade or so was when Derrick Rose tore his ACL and they somehow found themselves one game away from the Eastern Conference Finals (losing to Boston in 7). Something happened then that changed the culture of "content with mediocrity" and began with new owners (Joshua Harris) which was followed by the hiring of Sam Hinkie as GM.
I consider myself an above average fan when it comes to intelligence of the game. I fully admit that I don't know the pros and cons of the triangle offense, but I do follow all of my teams on a day by day, minute by minute basis. When they lose, my mood suffers; especially if the stakes are high (playoff game, etc). I readily admit that I am far too emotionally invested in my teams for the sake of my health.
With all of that said, I've come to this conclusion that in today's NBA there are two and only two ways to win a NBA championship and/or become a perennial contender. The first way is fairly obvious, and that is to buy a team in free agency (which in today's NBA means signing a LeBron or Durant). The other way is through the draft, and the only way to speed that process up is to tank and collect as many high draft picks along the way while shedding salary.
From day one of this process, which began three off seasons ago, I was completely on board because I was absolutely sick and tired of being mediocre and I felt that at least the front office was being honest. Joshua Harris and Sam Hinkie essentially said that enough was enough, that being the 7th seed in a bad conference was not acceptable. They wanted to build a perennial contender instead of a team that just gets by or is a flash in the pan.
They saw the state of the NBA and realized (I believe correctly) that the fastest way to build a perennial contender is to essentially tank for 2-3 years, accumulating top picks and not spend, so that at the end of that process the team would (in theory) have a plethora of young elite talent and still be able to go out and spend where needed to convince a LeBron or Durant to come to Philly. So they did just that, they unloaded salaries and made trades and have been a really bad team for three years now which is exactly what they said was going to happen.
So where are we now? They have young talent in Nerlens Noel, Jahlil Okafor (both players were defacto #1 picks at one point before the draft) and Dario Saric (playing in Europe, widely considered to be one of the best players in the world not currently playing in the U.S). Through previous trades, they potentially could have four 1st round picks this summer (with two of them being in the lottery) and a ton of cap space to spend. This extra money could come in handy as there is expected to be a fairly large increase in the cap for next season.
The icing (and only deviation to the process) on the cake is Joel Embiid, a player that was set to be the #1 pick before breaking his foot just prior to the NBA Draft two years ago. Before drafting him, Philly brought in all kinds of doctors and got all kinds of opinions which indicated that with the right rehab he should have a long career. They had no way of knowing that he would have a setback, and to make sure it healed properly that he would need a second surgery. By all accounts, the second surgery worked and he has matured (this year) in how he approaches his rehab and should be ready for next season. Now, because he had to have a second surgery, anything we get out of him is a bonus. However, I am cautiously optimistic because he has such a high ceiling.
So for me, it's simple – aside from the Embiid set-back this past off season, everything has gone as they said it would. They indicated it would be 2-3 years before the team was competitive and this season marks the 3rd season. All I'm asking is for fans to give them this off-season, let them complete "the process", and see if they spend in free agency. If they end up trading away their picks for future picks and spend nothing and are 10-72 next season, then…then you can be mad.
I firmly believe that based on the way the NBA is setup currently that the best chance you can give your team to win and win often is be very, very bad for a few years. I don't for the life of me understand how any intelligent person can look at what the 76ers have done and fault them for working within the system.
If you don't like what the 76ers are doing, don't fault the 76ers – fault the way the system is setup. I'm not suggesting the 76ers/Hinkie have handled everything perfectly, but I do appreciate that for once, a team recognized that being content with mediocrity is a bad thing.