Alabama outlasts LSU in old school battle
Updated: November 7, 2016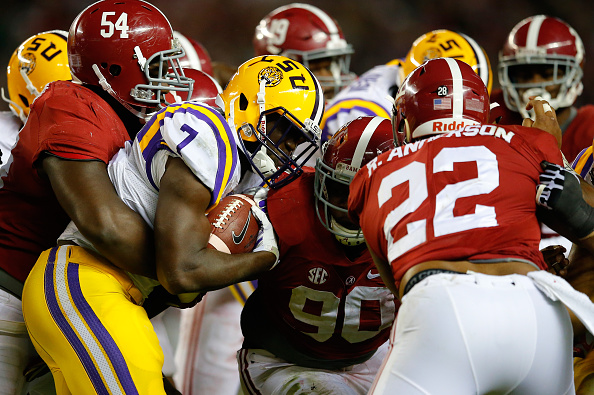 Fittingly played under the lights in Death Valley, Alabama and LSU engaged in a virtual war of attrition last night that wasn't settled for good until late in the fourth quarter. In the end though, the reigning national champs did enough on both sides of the ball to eventually break the will of the Tigers, notching its 13th straight win over a ranked opponent in the process.
In a college football world in which teams (including Alabama) put up video game type scores week after week, this game with a final score of 10-0 momentarily brought fans back to another era. Both before and after this bloodbath, the term "old school" was being thrown out there to describe the carnage that was occurring between the lines, and it couldn't have been more appropriate of a description.
Afterwards, LSU's Ed Orgeron might've said it best by saying "That was as old-school a game as I can remember in a while. I'm sure some will say it was ugly, but that's probably because it was just different than what they're used to these days."
Unfortunately for Orgeron, Alabama proved on this night that while they can put up points with the best of them in this wide-open, free-flowing era of college football, at their core they remain a team that can still dominate a throwback slugfest. One of the reasons Nick Saban has been able to continue his run of success is his ability to adapt and evolve over time, but you can't convince me that he didn't LOVE what took place last night from his defense.
With a cavalry of fast, physical, and imposing players at his disposal, Bama was able to limit LSU to six first downs and 125 yards of offense. While each defensive unit possess a number of talented players that will one day play at the next level, Jalen Hurts made enough plays late in the game on offense that proved too much for the worn out Tigers to overcome.
This contest reminded me on so many levels of the 2011 regular season battle between these two, a 9-6 LSU overtime win that was lauded by those of us from a bygone era of college football while simultaneously slammed by critics embodying the new generation for being a boring, no offense snooze fest. Whether it's on the college or even pro the level, you just don't see games that have that "this looks like it's being played in a phone booth" type quality anymore.
On one night every few years though, LSU and Alabama seem to bring us back to the kind of battle where every inch matters. Regardless of the style being played, Alabama appears to have all answers once again. Outside of LSU, we might not see another team with the athletes capable of engaging Alabama in this kind of slugfest, but here's hoping Michigan gives them a try.