The End of A-Rod in Pinstripes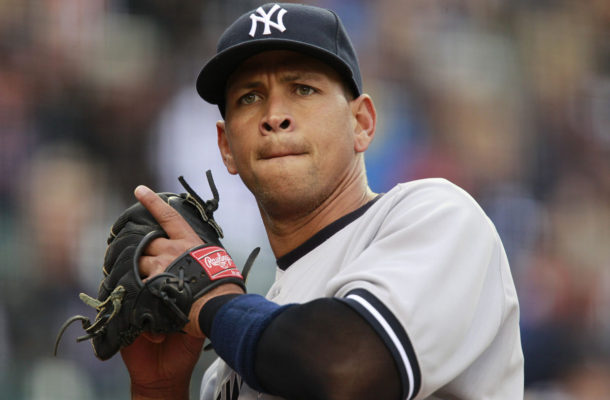 In our pre-kids era, me and the wife would often venture down to the Bronx a few times each season to take in Yankee games. One of the first we watched together happened to be Game 3 of the 2005 American League Divisional Series.
I remember it vividly due to the fact that it was the first MLB playoff game I had ever been too, as the Bombers hosted the Angles at the old Stadium on a cold and rainy Friday night. My pregame excitement evaporated almost immediately as Randy Johnson couldn't get anyone out in the early innings, and despite rallying all the way back, they ended up getting beat by a final score of 11-7.
Though it wasn't the outcome I was hoping for, one of the things I will always remember from that night is Alex Rodriguez coming to bat with Jay-Z walk up music playing. There was definitely a noticeable buzz and energy around him that was fitting of the caliber of player he was at that particular time. A-Rod did nothing of note that game, but you just got the sense from the buzz in the stadium each time he stepped to the plate that he was one of those larger than life type of players, the kind that could do something special at any given time.
I have been reflecting on A-Rod a lot since he/the Yankees announced that this Friday would be his last game in uniform. He certainly leaves behind a complicated legacy, one that I have struggled to wrap my head around ever since he arrived here back in 2004.
He was Mike Trout before Mike Trout, Bryce Harper before Bryce Harper, a phenom that many scouts acknowledged to be the most physically gifted 18-year old that they had ever seen. By the time he joined the Yankees he was the best player in the game and right in the crux of his athletic prime. One of the top defensive shortstops in all of baseball prior to his arrival, he made the move to third base look easy. It seemed like we were setup perfectly for another run of titles.
Had the Bombers not gagged in the 2004 ALCS, A-Rod could've shaped a very different legacy for himself from his very first year on. He would've been part of a winner right off the bat, making the playoff struggles that occurred in the years that followed fade to the background a bit in his overall narrative. Heck, if had the gotten monkey off his back at that time it might have alleviated some of the pressure that he obviously felt on the big stage of October and maybe the Yanks would've won another title or two (wishful thinking I know).
But as I learned from following A-Rod over time, almost nothing he ever did was easy. His one of a kind talent was often overshadowed by his aforementioned playoff failures and recurring PED use, and the drama that he consistently brought to the table was something most fans wanted nothing to do with.
His performance in the 2009 playoffs will always be his one high water mark, as he made a number of game changing hits and carried the Yankees to a number of wins. Brian Cashman saying that the team doesn't win the World Series that year without him is an understatement to say the least, for they wouldn't have gotten out of the first round versus the Twins if not for A-Rod's heroics. His play that October was something Yankee fans thought we were going to get every year from him, but it proved to be just a blip on the radar. Unfortunately, despite having chances in 2010, 2011, 2012, & 2015 to recreate the magic and deliver once again, A-Rod continually came up short.
Due to his PED transgressions, there will always be a big "what if" question surrounding A-Rod and his accomplishments. He will be remembered as a great player, but he robbed himself of the opportunity of being remembered as one of the all-time greats. It's easy to dwell on where he fell short, but I will always remember Rodriguez as being one of the few true five-tool players that I was lucky enough to watch live up close and in person.
Before each home game that I was lucky enough to attend back when A-Rod was still an everyday player, his warm-up process included playing long toss with Robinson Cano. They would progressively move further and further away from each other, until one of them was throwing almost from home plate to the other that was standing deep in the outfield. The strength of his arm was something to behold, and it was obvious to see the joy he seemed to take just from the simple act of playing catch with a teammate.
Warts and all, A-Rod truly loved the game of baseball, and his departure only serves to further reiterate the changing landscape of the Yankee organization and a bygone era of star players that I once followed on a day-to-day basis.