Are we nearing an In-Ring Return From Kurt Angle?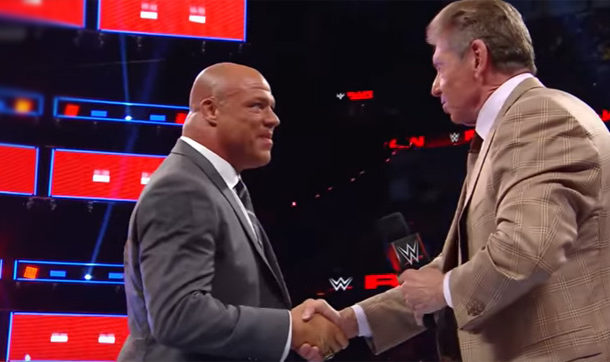 From the moment it was announced that Kurt Angle was returning to the WWE for induction into their Hall of Fame, I have held out hope that there would be more to his rekindled relationship with the WWE family than a ceremonial honor.
The Royal Rumble and WrestleMania came and went without the in-ring return moment from Angle that most fans were craving. However, when he was named the general manager of RAW the night after 'Mania it certainly gave credence to the thought that the company had big plans for him down the road.
Angle has certainly been effective and entertaining in the GM role, but this past Monday night it was teased that something might change in his working dynamic on next week's show with the release of some (storyline) scandalous information. A lot of room for interpretation there, but one can only hope that whatever it is, it leads the former Olympian closer to wrestling in the squared circle once again.
One of the greatest wrestlers of his or any generation, it's still hard to fathom that Angle spent more than a decade away from the WWE. You'd hate to say he wasted his time or his prime wrestling years in TNA, as we he was putting on some of the best matches of his career with the likes of AJ Styles, Bobby Roode, and Samoa Joe. But in terms of people getting to soak in and appreciate the night after night brilliance of Angle, a lot of those matches are simply an afterthought due to the substantial difference in viewership between the companies and because they didn't occur on the canvas of the WWE.
How many classic WrestleMania matches/moments were lost due to him being out of the WWE? Depending on the health of the wrestler (which has never been great), probably anywhere from six to ten. Think Angle/Taker or Angle/Punk or Angle/Edge. It's like if MJ or LeBron were of playing basketball in Europe during their late 20's and early 30's.
Anyway, those flashes are now lost in time. All we can hope for now is that Kurt is physically able to go, even if it is as a part-time performer like Brock or Taker before him. That might keep his banged up body healthy enough to handle the rigors of wrestling his intense style against the younger stars of today.
Though we may have lost out on a number of dream matches, with any luck the next few years will give us Angle/Rollins, Angle/Wyatt, or Angle/Baylor. With the influx of new talent in the WWE these days, the Angle fantasy booking scenarios are endless.
And I for one can't wait for them to get started.