Cavs kick off their new era with a big win in Boston
Updated: February 12, 2018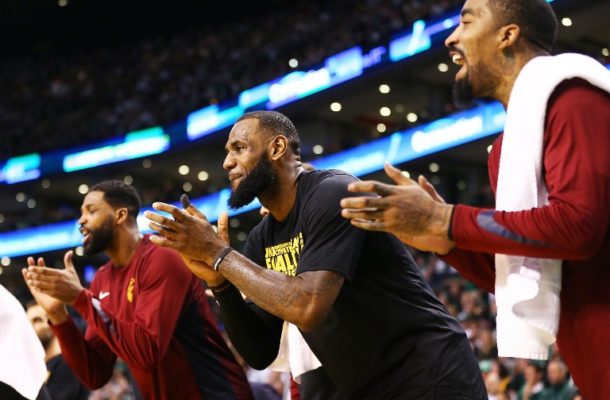 In 1997, the great Shawn Michaels was at the height of his powers and popularity when he famously came down with a mysterious knee injury that forced him to retire.
Professional wrestling lore has that HBK was unwilling to lose to his rival Bret Hart at WrestleMania 13, leading to this thoughts of retirement and ill-fated speech in which he stated that he had to "find his smile again", which he had "lost" somewhere down the line.
Of course, just a few months later Michaels was back wrestling and moving around as good as ever, essentially making anyone who actually believed his nonsense look stupid in the process.
Similarly, prior to the NBA trade deadline last week, LeBron James was looking and playing like a man who had lost his smile. The leader of the NBA's most drama-filled outfit, Cleveland was filled with a  collection of old and uninspired players that didn't get along, a group that refused to even give the appearance of putting forth some effort on the defensive end of the floor.
Though the Eastern Conference remains mediocre, the drubbings and breakdowns had become so commonplace that I had actually started to believe that maybe, just maybe this was the year that LeBron's streak of representing the East in the Finals would end.
But much like Tom Brady and the New England Patriots, you can't kill off LeBron that easy. In an instant, the Cavs managed to overhaul their roster and bring in pieces that should get them right back to the NBA Finals.
Dan Gilbert jettisoned brand names like IT, DRose, D-Wade for younger, more athletic, and better fitting players such as Rodney Hood, Larry Nance Jr., Jordan Clarkson, and George Hill. Shocking for sure, but on paper alone the Cavs went from an old, creaky (and cranky) team to one with some momentum and bounce.
Cleveland thrashed the Celtics yesterday 121-99 in the debut of the foursome, with each of the new additions contributing in a positive fashion and providing fans with a quick glimpse of what this team might be going forward.
And to the shock of no one, LeBron was back to being LeBron. From the brilliant on court play to the overtop sideline theatrics, he had found his smile again. All it took was the removal of some dead weight to lift up his spirits, for much like HBK in 1997, this LeBron had been there lying in wait all along.
Now, I am not sure these moves help them in any shape or form against the Golden State Warriors, but it will at least make for a more entertaining series if they in fact get there. Unlike in previous years, Cleveland might actually have to work a little this postseason to make it back to the Finals, with Toronto and Boston perhaps providing a little resistance.
But when the dust settles, I fully expect to see Round 4 of Cavs-Warriors in a few months. A rivalry that was on its last legs is definitely back in play now.