Cavs, Warriors to face off in ultimate NBA Finals trilogy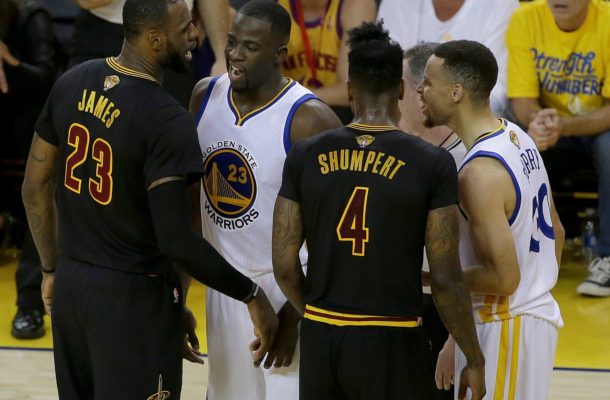 In perhaps the most highly anticipated trilogy since Rock vs. Austin at WrestleMania 19, the Cleveland Cavaliers and Golden State Warriors are finally set to renew acquaintances later this week. These two goliaths have been on a collision course since last year's NBA Finals ended in dramatic fashion, and both will come into this series with rosters stacked with even more firepower than they had when we saw them go at each other last June.
The common refrain we've all heard in reference to these NBA playoffs is how piss poor they have been, and I can't argue with that narrative one bit. The only resistance the Warriors might've gotten out West was from the Spurs if Kawhi Leonard had been standing upright, but the moment he went down it was essentially all over for Pop and company.
The Cavs haven't been seriously challenged in the Eastern Conference playoffs in the three year's since LeBron returned, an infuriating state of affairs for both (a) a Knicks fan and (b) someone who wants to see James pushed (even a little) before he reaches the Finals. Getting out of the East was at one time a battle of attrition, but LeBron's talent coupled with subpar management in team building from his competitors has made his yearly reservation in the Finals a given.
All and all, this postseason has consisted of high-caliber basketball from the Cavs and Warriors followed by a week plus of waiting time before the next series begins. Not blaming them one bit, they are just that much better than their opposition at the moment. On the plus side, the lack of drama in the NBA  has allotted me time though to watch more of the compelling/brutal NHL Playoffs and drink in the MLB phenomena that is Aaron Judge.
So now that the main event if finally here, what we should we look for or expect this time around?
Based on the amount of weapons Golden State has and the ease in which they can rip off 10-0 runs, I believe that the Cleveland is going to have a heck of a time trying to defend this club. Everyone is pointing to the Cavs ability to turn it on defensively in the playoffs after struggling on that end of the floor in the regular season, but the fact of the matter is that the teams they have encountered thus far don't have the speed/size/skill of the Warriors. Also, if you watched the Boston-Cleveland series carefully, you could see that the Celtics missed a TON of open shots. The opportunities were there for them to score, they just missed the looks or didn't have the players to execute. If given the same opportunities, I don't see Curry and Durant continually coming up empty.
LeBron is also going to have to guard KD for long stretches of time, an endeavor that is challenging and will zap a good portion of his energy. So much of what the Cavs do on offense revolves around him starting action or making decisions, and against other teams he can often hide out or coast on defense if he needs to. Facing one of the best offensive players in NBA history will not allow James this luxury.
As for Curry, it was obvious that he was not himself during last year's Finals. The clearest indication of this was during the fourth quarter of Game 7 of when he couldn't get by Kevin Love (yes that Kevin Love) and get to the rim. During these playoffs he has looked fluid, confident, and is back to playing at the peak of his powers. If there is anyone who wants to atone for last year's collapse, it is Steph.
Like Games 5-7 of last year's Finals , Cleveland is going to need superhuman games from both LeBron and Kyrie Irving if they are going to win this series. It will be difficult to eclipse those kind of transcendent performances, but the Cavs will need them to do so in order to win the title again. The Warriors are healthy this time around, managed to swap out Harrison Barnes for Kevin Durant, and I venture Draymond Green won't do something to cost his team on the big stage again. Even having Mike Brown on the bench instead of Steve Kerr shouldn't be something that swings these games too dramatically, and when it is all said and I done the Warriors should have their second title in three years.
Warriors in 6.