Durant gets his title, Warriors get their revenge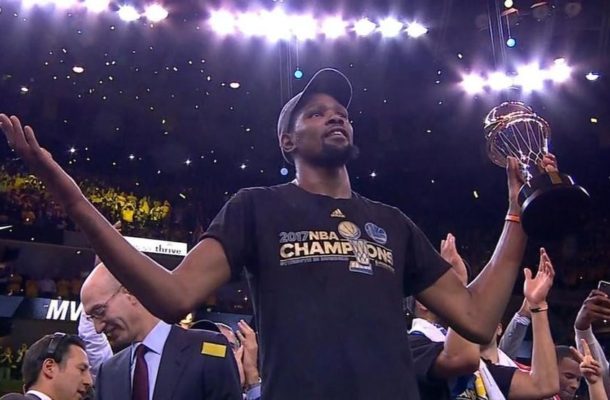 In a closeout game not lacking for drama, Kevin Durant and Stephen Curry combined for 73 points in leading the Warriors to a 129-120 win over the Cavs.
Golden State was able to weather the fast and physical play of LeBron James and extreme shot making of Kyrie Irving and JR Smith in order to pull away down the stretch, with Durant and Curry each having their share of signature moments.
For all the flack KD received before and during the season, winning title and earning Finals MVP definitely serves as a bit of vindication. Due in large part to untimely injuries (to himself and key teammates) during his years in OKC, Durant had been carrying the moniker of best current player never to have a won a title for most of this decade.
Anyone who thought he would just be a passenger on a guaranteed title train were woefully mistaken, as he proved to be the man who shifted the balance of the power between the Warriors and Cavs in clear favor of the Dubs. His performance down the stretch in Game 3 will definitely go down in the playoff lore, as it looked like we might have a series for a minute before KD rose up on LeBron.
As for Curry and the rest of the squad, they had to live with the baggage of last season's collapse in the Finals for a full year. From slings and arrows from the media to subtle (and not so subtle) digs from members of the Cavs, it was a burden they had to live with and learn from. Though this year's domination will never fully erase what happened a year ago, they can now take solace in the fact that they have won two of the last three titles and dropped LeBron's record in title series to 3-5.
It's been an incredible run for the Warriors, and by all indications they are just getting started.