Ewing gets his chance at Georgetown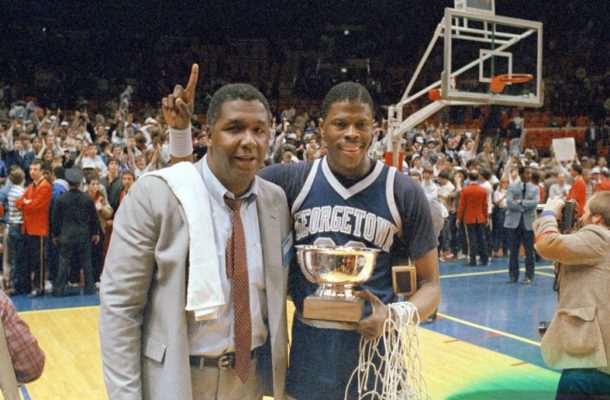 After toiling in the NBA as assistant for 15 years, Hall-of-Famer Patrick Ewing finally has a chance to run his own team. Ironically enough, his big break came back at where it all began for him at Georgetown.
For someone who followed Ewing's rise to stardom during the glory years of the Big East and all throughout his years grinding with the New York Knicks, I am ecstatic that he is returning to his alma mater. Those Georgetown team's of the early 80's led by Big John Thompson were the some of the best in the history of college basketball, employing a physically intimidating brand of basketball that wasn't seen before and hasn't been replicated since. They literally scared the bejesus out of opponents, with Ewing serving as a force of nature in the middle and protecting the rim like a hockey enforcer.
Ewing starred for the Hoyas during a period when both the team and the conference itself were the alpha dogs of college hoops. Though JT3 had some good seasons, things have been gradually regressing at Georgetown the past few years. Combined with the dissolution of the Big East that we all grew to know and love in 2013, and the aura surrounding the Hoyas is far from what it was in the 80's and 90's.
With Villanova firmly established as a perennial contenders, the Big East is beginning to regain some of the clout that it had lost. What would really help with brand recognition is if Georgetown and St. John's, two historical powers now each being led by the greatest players in Conference history in Ewing and Chris Mullin, were somehow able to turn things around. Easier said than done in the modern era of college basketball and the competitiveness of recruiting, but something that if accomplished would provide a real shot of life to the sport.
I will never know or understand why Pat Ewing wasn't offered a chance to be a head coach in the Association, especially considering the time he spent learning his craft and some of the retread coaches that manage to get opportunity after opportunity in the NBA. Whatever the reason might be, I am glad he is back in the Big East and am rooting for him to turn the fortunes of Georgetown around.
The 1980's 'Hoya Paranoia' teams were like the Raiders of the NFL, and just like the NFL is more interesting when Oakland is relevant, college basketball will be more entertaining if this traditional power returns and becomes the dominant beast that it once was.