Grayson Allen returns as starter for Duke after 1-game suspension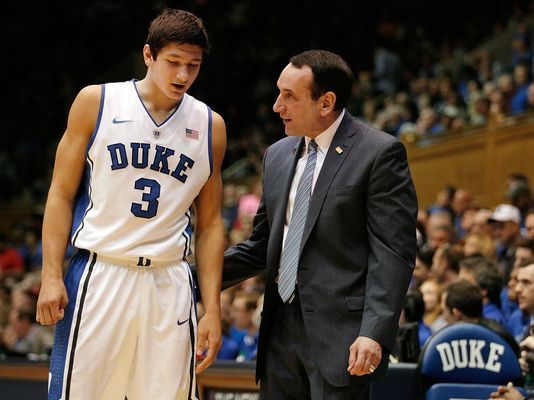 If there is one thing I have come to learn about Duke coach Mike Krzyzewski it's that regardless of public opinion, he ultimately doesn't give a dam about what you, I, or the national media in general thinks.
Coach K seemingly came down on hard on star guard Grayson Allen a few weeks ago after his third tripping incident, hitting him with an indefinite suspension for embarrassing himself, his coach, and his program. Krzyzewski appeared to be fed up with the strange antics of his player, and most people felt that we wouldn't see young Grayson for at least 3-5 games.
Evidently in the weird and wacky world of the Dukies, "indefinite" is code for one game (roughly two weeks in actual time) and Allen was back for Wednesday night's 110-57 throttling of Georgia Tech. The timing of the reinstate was odd not only due to the shortness of the suspension, but also that it came in the last game before Coach K goes away for a few weeks to undergo back surgery. To the outside it appears that he wanted to have one good last look at his complete team in action since a number of players have been in and out of the lineup this season due to a variety of injuries.
In the pantheon of the current great coaches, Coach K ranks right up there with the likes of Gregg Popovich and Bill Belichick. Krzyzewski's longevity and track record of success enables him to do things others can't and make decisions that often fly in the face of conventional wisdom. Regardless of how it looks, he wasn't going to drag out Allen's suspension just to satisfy a punishment timeline that the public would've deemed to be acceptable.
Coach K's affiliation with USA basketball proved that this is a man who will take any path necessary to stay relevant and gain an edge on landing top recruits to Duke, and his holier than thou act was called into question following after his exchange with Oregon's Dillon Brooks last March. As good of a guy Krzyzewski is off the court, he is cutthroat on it, and by this point in his career we shouldn't be surprised by anything he does in order to remain on top of the college basketball food chain.