Jim Boeheim to soldier on at Syracuse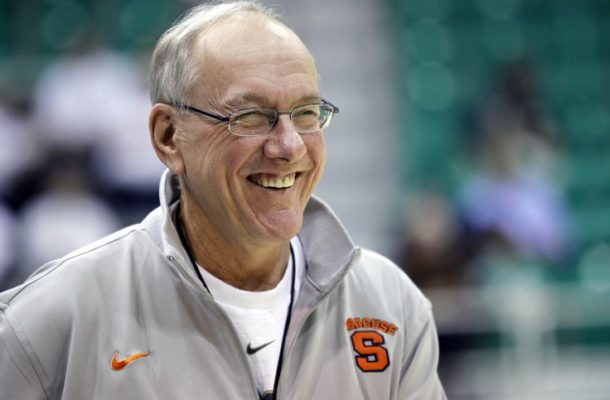 Between making March Madness bracket selections, Survivor Pool picks, and the action of the NCAA tournament itself, a story very near and dear to my heart managed to fall beneath the cracks over the course of the last few weeks. The story I am referring to is the announcement that Syracuse coach Jim Boeheim recently signed an extension that will keep him in charge beyond the 2017-18 campaign, mere hours after designated coach-in-waiting Mike Hopkins left to take the same position at Washington.
To say I was happy with this development would be an understatement, for even though he is 72 years-old and has been the head coach for the Orange longer than I have been alive (41 years), I don't think I was fully ready to deal with the end of the Boeheim era just yet.
With the exception of Rick Pitino, Jimmy B represents the last man standing of the era of basketball that I fell in love with, specifically the Big East of the 1980's. Syracuse became my team during that glorious timeframe in which the Conference exploded in popularity, with the players of the program living on in folklore and Boeheim emerging into a Western New York (and college basketball) institution.
There is a certain mystique associated with the Carrier Dome and all the greats that have made memories playing there for Jimmy, and even to this day my friends and I make an annual pilgrimage to Syracuse to catch a game. Even though it will still be Syracuse and it will still be the Dome when he is no longer the coach, it will never quite feel exactly the same again.
So with Hopkins making the move out West, supporters of the old man get to delay the inevitable for at least one more year. Pat Forde and others will have to suck it up and endure more of his crusty old antics, while those of us who take great pride and pleasure in his cantankerous mannerisms will get to sit back and enjoy his post-game interviews beyond next season.
In a world filled with constant speed, movement, and change, it is relieving and a bit comforting to see something familiar remain in place. A new era at Syracuse will be ushered in eventually, but until that day comes, here's hoping Jimmy B roams the sidelines as long as possible…and has one more Final Four run left in him!