Jon Gruden makes a splash, returns to the Raiders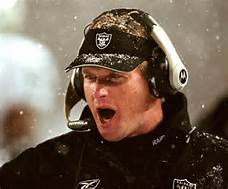 Ever since Jon Gruden was fired by Tampa Bay early in 2009, his return to coaching in the NFL has seemed inevitable.
Though technically he was out of the profession, he managed to remain a fixture in the game by virtue of his larger than life personality and presence on a variety of ESPN platforms.
As "Black Monday" approached in the years following Gruden's dismissal, the common names to be tossed out there for possible returns to coaching always seemed to be either his and Bill Cowher's. And while Cowher has stayed away from rejoining the coaching scene, the itch (along with a perfect opportunity) were finally too much for Gruden to pass up.
It is only fitting that Gruden ended up back in Oakland with the Raiders, though I think everyone was a little taken aback by the terms of the deal (10-year contract likely approaching $100 million). The Raiders have always had a renegade image, and "Chucky" on the sidelines swearing up a storm was/is a match made in heaven. His second go-round with the team will coincide with the franchise setting up shop in Las Vegas in 2019 or 2020, a rock-star coach taking over the city in the desert.
In a quarterback driven league, the future success of the Raiders will ultimately depend on the play of Derek Carr and whether or not Gruden can take his game to the next level. In theory this should be a no-brainer – a young QB who has all the tools to be a perennial Pro-Bowler paired up with a coach with a good track record of calling plays and developing the position.
Gruden might've already won a Super Bowl with the Raiders if not for the "tuck-rule" game back in 2001. Armed with a fresh start, young stalwarts in Carr and Khalil Mack, and a boatload of power and financial security, he now has all the tools (and time) at his disposal to finish the job and return to the Raiders to glory once again.