Khabib Nurmagomedov latest to call out Conor McGregor
Updated: November 28, 2016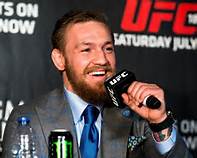 Say what you will about Conor McGregor, but the guy sure makes interesting even when he is taking time off.
Dana White's meal ticket is supposedly not fighting until at least of May 2017 due to the impending birth of his first child, but that hasn't stopped the hype around the Irish wonder one bit.
Shortly after defeating Eddie Alvarez at UFC 205, a fresh batch of rumors surrounding a possible boxing between Conor and Floyd Mayweather came out. Talks of such a fight had gone dormant for months, but with Mayweather looking for to stay relevant and score a monumental payday, it was only a matter of time before things cropped up again.
Then there is the WWE angle. McGregor famously insulted both Brock Lesnar and pretty much the entire WWE roster over the summer, again proving himself to be not only one of the best smack talkers in the business, but also a brilliant businessman. Who couldn't see him appearing at a WrestleMania somewhere down the line? With Triple H in attendance at MSG to watch Conor's latest fight, it seems like the seeds have been planted for a future payoff.
And lastly, we get to Khabib Nurmagomedov. Nurmagomedov is considered one of the leading candidates to fight McGregor next, and he has done his best of late to "poke the bear".
A few days after his coach went on record saying that Conor was ducking his guy, Nurmagomedov took it a step further by sharing a screenshot of a direct message he sent to the champ on Twitter. Khabib posted the message for all to see, with the gist of it centering around him imploring McGregor to step up, be a man, and fight him.
Now I personally don't know much about Nurmagomedov as a fighter (other than Hendo saying he would smash McGregor), but this was a good move to drum up some public interest in a potential fight. Conor is used to calling people out left and right and not being on the receiving end of it, so it will be interesting to see what kind of response he has when he re-emerges.
Whether it is Mayweather, the WWE, Nurmagomedov, a rubber match with Nate Diaz, or a battle against welterweight champion Tyron Woodley, McGregor certainly has a host of options to choose from in regards to his next move. He moves the needle like no other in the fight game at the moment, and even when he is silent he still manages to generate all the headlines.