Melo era ends in New York
Updated: September 26, 2017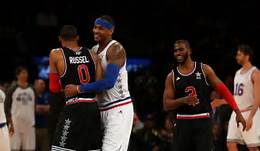 It's hard to believe that it was back in 2011, as it seems like it was just yesterday that my favorite NBA team (yes, those New York Knicks) acquired my favorite player (Carmelo Anthony) from the Denver Nuggets.
Sure, the Knicks gave up a ton to get him, but they were getting one of the top scorers in the game right in the heart of his prime. I didn't necessarily think this team would win a title during his years in NY, but definitely envisioned some deep playoff runs.
Patrick Ewing and the early 90's Knicks had those memorable playoff clashes with Jordan and the Bulls, and it didn't seem that far-fetched to think that Melo would have some epic postseason clashes with LeBron as they battled each other for Eastern Conference supremacy for the next five-ten years.
It all sounded good in theory, but in reality, an entirely different story unfolded.
Melo's ride officially ended yesterday when he accepted a trade to Oklahoma City. Outside of one glorious season (2012-2013), Carmelo was saddled with subpar rosters, a revolving door of coaches, and a GM in Phil Jackson who single-handedly managed to set the franchise back a good five years.
As much criticism as Carmelo gets for the lack of success he had in NY, who exactly was his "best" teammate during his tenure there? A broken down Amar'e Stoudemire? A one-dimensional Tyson Chandler? A streak shooter in JR Smith? A 40 year-old Jason Kidd? Derrick Rose? In time it would've been Kristaps Porzingis, but it was still going to be a few years before the unicorn was fully developed.
It is utterly impossible to consistently win in the NBA without a solid supporting cast, and more often than not Carmelo was paired with substandard players. People bang on Melo's effort and intensity and rightfully so – he was the top guy, the highest paid guy, and should have brought it on both ends more than he did. But given the manner in which those teams were constructed, the end result each year would've been largely the same.
It all began with so much promise, and beyond anything else I am bummed that it didn't work. I have followed Carmelo since his year in Syracuse, and will still be a fan of his for the remainder of his career.
Sadly, being a fan of his and the Knicks will no longer be one in the same.