North Carolina outlasts Gonzaga to win NCAA title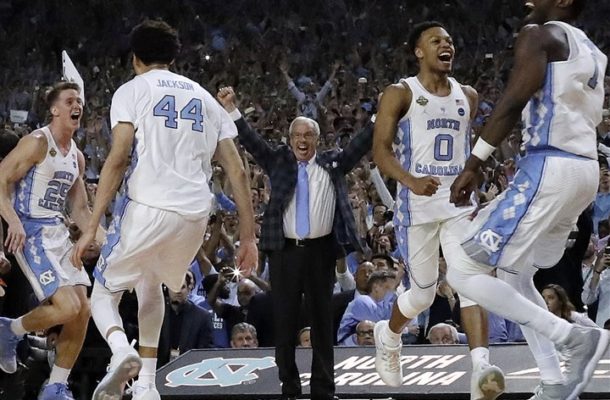 Much like the ending of last year's national title game between North Carolina and Villanova, one of the single most deflating basketball sequences I can remember was the final minutes of Game 6 of the 2013 NBA Finals. Thanks to a late surge punctuated by Ray Allen's step back three-pointer, Miami rallied to win that game and the next in route to winning the title against the San Antonio Spurs.
The buzzer beater by Kris Jenkins in the 2016 NCAA title game ended what had been a furious rally by the Tar Heels to tie the affair, concluding one of the competitive finals ever in dramatic fashion.
Suffice it to say, San Antonio and Carolina each endured soul crushing defeats – the kind that are even more painful because in each case they were probably the better team.
Even more impressive than victory is sometimes how a team dusts themselves off when they lose. The Spurs rebounded the next season to win the title, and now, in rather fitting fashion, so has UNC.
It was an ugly affair for sure, but a victory Roy Williams and company will enjoy just the same. Their 71-65 win over Gonzaga was highlighted by tough defense and a few key shots, as both teams fought valiantly to play through the non-stop whistles of the officiating crew.
Over the course of the past two seasons, Carolina has used its collective size and length to gradually wear out opponents. This seemed to be the case Monday night as well, as they ratcheted up the defensive pressure in the second half and dominated in terms of points in the paint. The imposing frontline of Justin Jackson, Isaiah Hicks, and Kennedy Meeks all made big plays in the closing minutes, ultimately sealing the deal.
In capturing his third title, Ol' Roy passed his beloved mentor Dean Smith in the championships won department, joining some impressive company in the process. It's been a tough few seasons for North Carolina both on and off the court, but this win speaks to the consistency of the program he has built and the fast-paced yet bully-ball style of the basketball they employ.
Though UNC had cemented its place amongst the elite of college basketball decades ago, the redemption tour of the past year will put this group of players in rarefied air. Not every team has the "stuff" to come back from such a huge loss and get back to the same exact spot. However, much like the Spurs did, last year's defeat served as the motivation for achieving something truly special.
Mission accomplished.