Packers bounce 'Playoff Eli' and the Giants
Updated: January 10, 2017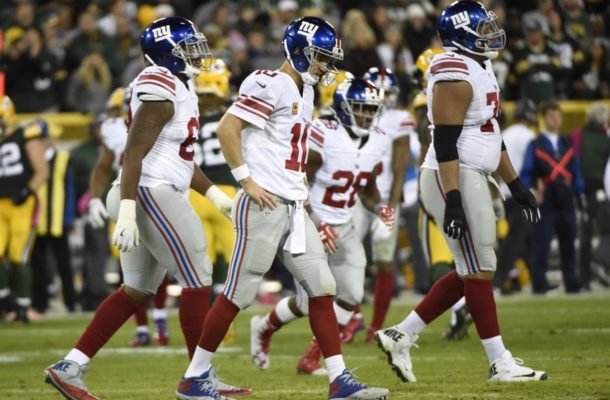 The buzz had been growing for a couple of weeks now, ever since the Giants beat the Dallas Cowboys 10-7 in early December in a contest that had the look and feel of a playoff game. Backed by a defense that was peaking at just the right time, New York appeared to be giving off the kind of vibes we had seen turn seemingly average seasons into two magical playoff runs back in 2007 and 2011.
The 2007 and 2011 versions of the New York Giants will always live on in NFL lore because of the wild-card/road warrior paths those respective units took to Super Bowl glory. 'Playoff Eli' became a real thing, a quarterback who morphed into the type of killer that not only could outplay Brett Favre and Aaron Rodgers in the cold, but could also topple Tom Brady on the biggest stage on two different occasions. Given the pedigree of Eli and the physical nature of the defense, it wouldn't have surprised many people if the Giants and Pats made their way to Houston for a third SB meeting.
Instead, the 2016 wild-card version of the Giants lasted 60 minutes, done in by a beast of a similar nature.
In a little over of a quarter of game-time, Aaron Rodgers turned a 14-13 lead into a 38-13 final score, ending the day with four touchdown passes. There are few better than Rodgers once he gets comfortable and in a rhythm, and he was able to pick apart New York's defense in the second half with little resistance.
Having won seven games in a row, we will soon start hearing comparisons between the run the current Packers team is on versus the exploits of the 2010 Super Bowl winning squad. That team got hot at just the right time, and those who have followed the playoff failures of Green Bay since Aaron won his lone Super Bowl know that this franchise is more than due for another.
Whether or not their defense can stand toe to toe with the offensive line of Dallas remains to be seen, but going on the road with the best QB in football gives the Packers at least a punchers chance.
As for the Giants, they will have to wait another to see if Eli can lead them to the promise land one more time.