Penn State continues remarkable season, captures Big Ten Championship
Updated: December 5, 2016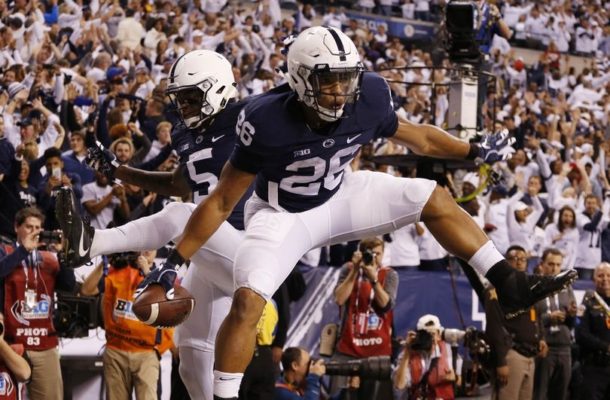 To see how far the Penn State football program has come after a 2-2 start to the season, all you need to know is that a pocket of players, alumni, and fans were disappointed with a Rose Bowl berth.
That was a natural feeling when a spot in the College Football Playoff was seemingly in reach, but once the initial frustration subsided, it was hard to look back this season and not marvel at what an unmitigated success it has been.
Winners of nine straight games and arguably the hottest team in the nation, Penn State was thrust into the playoff conversation following its thrilling 38-31 win over Wisconsin in the Big Ten championship. The Nittany Lions trailed by three touchdowns at one point in Saturday's game before Trace McSorley started picking apart the Badgers, leading to explosive plays all over the field. The win punctuated a rebirth of a program that few (if any) saw coming.
Like many fans, although I had been impressed with James Franklin's ability as a recruiter, even in the early parts of this year I remained skeptical of his ability as a coach. While some of the criticisms of his game management skills have been valid, in all fairness he wasn't playing with a fully loaded roster during his first few seasons in Happy Valley. This season, the convergence of the recruits he had brought in with veterans from the previous regime produced a team capable of making noise on a national level.
With USC on a roll themselves, Penn State's Rose Bowl date against the Trojans looks to be one of the more entertaining games of the entire bowl season. A win would be great, but anything at this point is just icing on the cake. It was tough to envision this scenario a few years ago, but a new generation of coaches and players have managed to make wins and 'White Outs' feel meaningful again.
As an alum, that's good enough for me.