Syracuse roars back into the Final Four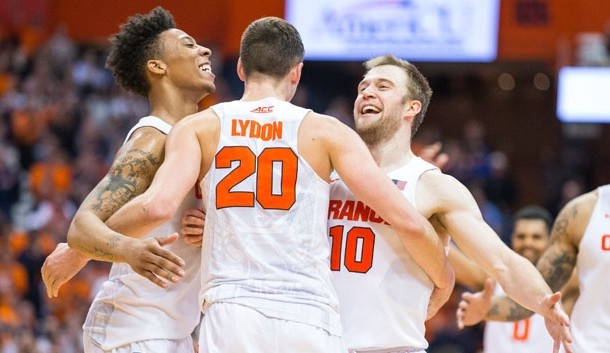 Left for dead by myself and others this year, Syracuse continued their out of nowhere run to the Final Four by dispatching the Virginia Cavaliers this past Sunday in dramatic comeback fashion.
For even the most ardent supporters of Jim Boeheim and his program, this is a story that was almost impossible to see coming. The team regressed badly earlier this season when Jimmy B. was forced into exile for nine games by the NCAA, and after finishing with a 9-9 record in the ACC, it was believed that the Orange were going to be on the outside looking in come tourney time.
Instead:
(1) They got in.
(3) A potential meeting with Michigan State got derailed by Middle Tennessee.
(4) They outlasted Gonzaga and Domantas Sabonis.
(5) And then, thanks largely to Malachi Richardson losing his mind, rebounded from a large second-half deficit against a team they hadn't beaten before and earn a trip to Houston this coming weekend.
While Syracuse's march to the Final Four in 2013 was also a little unexpected in comparison to some of the loaded teams they had in the past that flamed out in the earlier rounds, the 2015-2016 rendition is one of the unlikeliest squads to make this far in the big dance of all-time. This group has peaked at the most opportune of moments, managing to erase the pain of having to sit out of postseason play last season in the process.
They will face none other than North Carolina in the National Semifinal matchup, two teams that I saw play live at the Carrier Dome just a few months ago. Though I vividly remember the back and forth nature of that contest, I also recall from being that close to the action that UNC had the deeper and more talented roster. Jimmy's younger players have grown significantly since that time however, specifically with Richardson's ability to take over games at various instances and Tyler Lydon proving to be a valuable asset both at the back-end of the zone and with his ability to stretch the floor.
If there is one advantage the Cuse might be able to exploit, it's their distinct size advantage in the backcourt. Michael Gbinjie and Trevor Cooney tower over Carolina's Marcus Paige and Joel Berry, and because of this they should be able to get as many high percentage shots as they want. On the flip side, Ole Roy's team is relentless on the offensive glass and grinds opponents up with their deep rotation of 'bigs'. To combat this, Tyler Roberson must stay on the court and continue to rebound with the passion of a young Chuck Barkley.
Syracuse certainly faces an uphill battle on Saturday, playing against a team few people expect them to beat. They are playing with house money at this point though, and if the last few week have taught us anything, it's that Boeheim's team is capable of storming back and making a run when you least expect it.