Texas' return to prominence a work in progress
Updated: September 22, 2016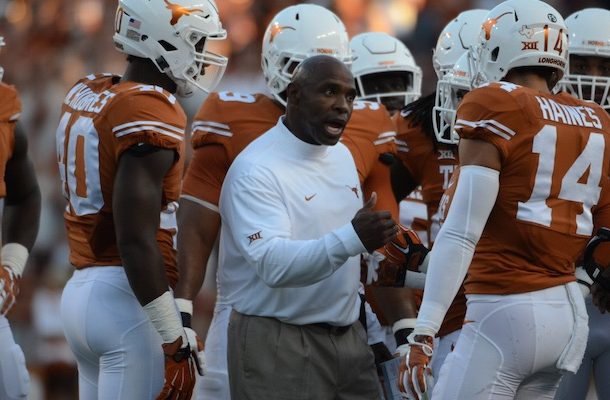 In what has been deemed by some as a make or break year for University of Texas head coach Charlie Strong, his team opened the college season a few weeks ago with a thrilling win against then-No. 10 Notre Dame. That night had the feel of a watershed moment for the program under Strong, essentially sweeping away the disappointment of his first two campaigns and signifying the Longhorns' return to national prominence.
The good vibes from the 2-0 start were damaged a little bit by the team's 50-43 loss at Cal on Saturday, as Texas' defense let them down in their first road game of the year. They were unable to get any kind of pressure on quarterback Chris Webb, and he made them pay for it with nearly 400 passing yards.
Defensive breakdowns continue to plague Texas, which is concerning given Strong's solid track record of coaching top flight units. While in his first few years it could be attributed to not having the requisite level of talent on the field, UT has brought in back-to-back top 15 recruiting classes. The athletes are in the fold now, but the execution is still lacking.
Strong has vowed to take ownership of the situation, and with an offense led by Shane Buechele that is more than capable of putting up large numbers on the score board, it is imperative for that side of the ball to be more competitive. In 28 games at Texas, Strong's defense has given up 40 points eight times. This stat could easily rise in the coming weeks with games against OSU, OU, Baylor, and TCU still on the slate, hence the urgency to tighten up shop as much as possible during the team's bye week.
The program as a whole in terms of the product on the field is in a markedly better place than it was this time last year, and Texas certainly has the look and feel of a team that is on the rise. Though they might be a season or two away from being a serious contender again, the expectations were ratcheted up by virtue of that high profile win over ND. If Strong can live up to his reputation as a defensive guru, the reality will start matching the expectations sooner rather than later.