The Mayweather-McGregor money grab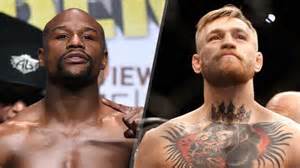 "Probably not for a while but I believe it will happen. There's too much money involved to not happen." – Dana White
That right there is the crux of it.
Floyd Mayweather and Conor McGregor have been engaging in a public relations slow dance towards each other for months now, garnering free press along the way while making outrageous claim after outrageous claim about the other.
The latest salvo fired in this seemingly never-ending sham occurred this past weekend with McGregor going into business for himself and making sure that the spotlight remained pointed in his direction, essentially taking the attention away from one of his good friends in the process.
At Madison Square Garden Friday to walk Irish Olympic star Michael Conlon to the ring, the notorious one managed to size up the audience and deliver a (very, very) poor man's Muhammad Ali type rant after the fight. Going in on ESPN's boxing writer Dan Rafael, McGregor spewed out the following nuggets:
"I'm the boxing guy! Watch me take over boxing, trust me on that."
"No one in this boxing game knows what's coming. Trust me on that."
"I'm going to step in there and shock the whole god damned world. Trust me on that".
"Look me in the eyes, 28 years of age, confident as a m—–f—–, long, rangy, dangerous with every hand. Trust me, I'm going to stop Floyd, and you're all going to eat your words. The whole world is going to eat their words."
Right…
It's laughable that we live in a world in which one of the best boxers of all time could conceivably face someone who has never boxed professionally. However, it's fair to say that when $100 million dollar paydays are at stake that nothing is out of the realm of possibility.
And much as I hate to say it, Dana White is right – this is going to happen.
You can never fault anyone for making the amount of coin that people are willing to pay you for, especially considering the type of numbers being contemplated for this potential blockbuster. As a fan though, this ridiculous money grab just doesn't sit well.
Other than making gobs of cash, what does taking a fight that arguably shouldn't even by sanctioned by a state athletic commission do for Mayweather and his legacy? You'd think that getting his record to 50-0 would mean something to Floyd, but by publicly stating that McGregor is the only person he'd be willing to come out of retirement to face shows us that:
(1) he just wants to get paid
(2) he doesn't want a competitive fight
Fortunately for Mayweather, he can afford to be selective and engage on his own terms, public perception or opinions be damned. It's just a shame that he wouldn't want to come back to face either a more established fighter or a young up and comer.
This is a no-brainer for McGregor, as this payday will blow away anything he's ever seen or will ever see in the UFC. And even if he gets embarrassed and outclassed by Floyd as expected, it shouldn't hurt his drawing power one bit in the future. He can talk his way into anything, and will sell his eventual defeat in a manner that comes off positively for himself in the world of MMA.
While it's frustrating enough that this is inevitable, it will be even more so when the promotion for this fight starts (if it hasn't already).
Are they really going to sell an educated audience on this being anything but a sideshow? Is Floyd really going to dance around for 12 rounds against someone with limited boxing experience? How are we supposed to believe that two fighters with such a wide gap in terms of skill and experience are going to be "fighting" each on the level?
If anything, it gives credence to the notion that these two men will be laughing today privately both before and after the fight.
They are both master manipulators, and this is going to be the score to end all scores.