Tiger and Phil still making waves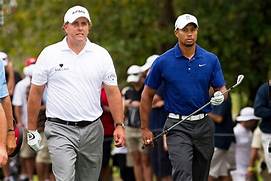 In consecutive weeks, golf's old guard has shown that they can still play a little.
Tiger and Phil have long been regarded as two of the greatest to ever swing the sticks, and both are in good form with the year's first major lurking right around the corner.
There was Lefty last weekend at the WGC-Mexico Championship, ending a winless drought that dated back to 2013 by taking down the impressive Justin Thomas in a sudden-death playoff.
And then there was Tiger this past weekend, nearly destroying Twitter and every other social medium forum with his turn-back-the-clock 2nd place finish at the Valspar Championship.
In recent years, both have been saddled with injuries (Tiger/back, Phil/hernia) and age related attrition in the face of a steady crop of rising players eager to make their marks. It hasn't been easy to watch these legendary figures of the game struggle (especially Tiger), but, as we near April, I do sense a level of optimism.
The Masters is a tournament that each has an uncanny ability to successfully navigate around. Regardless of how they are playing entering the tournament, Tiger and Phil both know the course so well and feel a comfort there that they always seem to be in the mix.
It looks like both players will be entering Augusta healthy and in control of their games for the first time in years, and, when that is the case, either one or both of them typically ends up in contention.
It definitely has been a long time since I could say what with any sort of conviction. With the years going by fast and major championship opportunities fading, I am definitely going to enjoy this run while it lasts.