U.S. brings home first Ryder Cup since 2008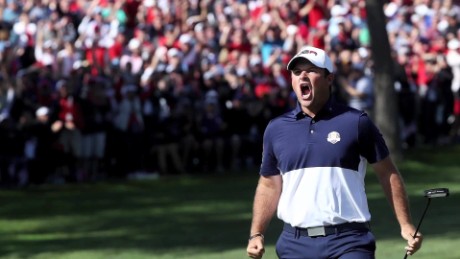 A victory four years in the making finally occurred at Hazeltine this weekend with the United States winning the Ryder Cup. The matches were closer than the final score of 17-11 would indicate, but when it was over those rooting for the Americas could both celebrate the fantastic golf that was played and breath a collective sigh of relief that they had FINALLY beaten the Euros.
For captain Davis Love III, a little bit of redemption was achieved with this triumph. He was in prime position to win the Ryder Cup at Medinah back in 2012 before all hell broke loose, and if that European comeback never occurred the U.S. might not have taken the drastic steps it did to revamp the internal process (see Ryder Cup task force) for at least another few years. He pushed all the right buttons this weekend, and it was easy to tell that the guys on his team were ecstatic to get this one for him. It was the perfect capper to what has been an outstanding career for DL3, and I am just glad he was given the opportunity to even up his record as captain and wash away a little of the pain from Medinah.
Love him or hate him, it took a certain set of stones to put himself out there like Phil Mickelson did after his team got smoked at the 2014 Ryder Cup. He not only called out a legend in Tom Watson but the entire U.S. Ryder Cup process as a whole, helping to set into motion the chain of events that culminated at Hazeltine. Mickelson had all the pressure in the world on him entering this event, as he knew better than anyone that another loss would provide his critics with all the fodder they needed to come after him with a vengeance. He one of the faces of this team, and though Lefty is creeping up there in age, he showed that he was more than capable of still playing some amazing golf. His match on Sunday versus Sergio Garcia proved to be an instant classic, and judging by his reaction when it was over you would've thought that he had won another major. Lefty was one of the biggest winners from this weekend, essentially validating the decisions that were made by him and other members of the U.S. brain trust.
If Lefty was the heart and soul of the team, than Patrick Reed was its enforcer. We (the Americans) had been waiting for years for a player to emerge that could stand toe-to-toe with the Sergios, Stensons, and Rory's of the European team and beat them at their own game. Reed did that and more, first carrying Jordan Spieth through the better part of four team matches before dispatching Rory in the opening match of singles play. Reed's victory set the stone, putting the Euros on notice that would occurred four years ago would not be happening again. A star was born in the process, and going forward we might have just found our own Ian Poulter type of player to compete in these events.
It was a team victory at the end of the day for the U.S., as for once we finally made more big putts than they did and didn't gag away the 18th hole in close matches. It took longer than any American golf fan wanted it too, but at long last, it was our time.