Yankees get to Keuchel, one win away from World Series
Updated: October 20, 2017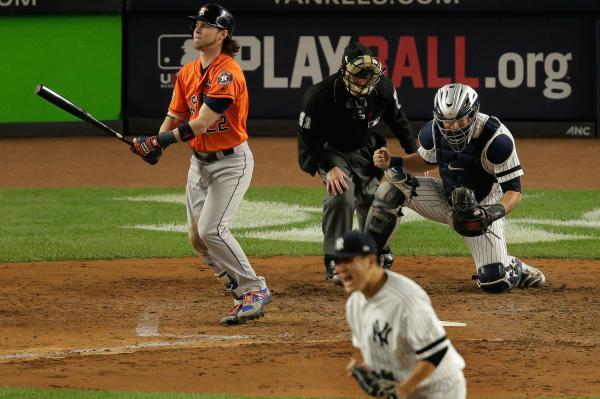 Curt Schilling, Randy Johnson, Josh Beckett.
Like these pitchers who had dashed promising Yankee seasons in past October's (and November's), Dallas Keuchel was quickly gaining the reputation as a "Yankee Killer".
Deservedly so, as not only did he bounce them from the playoffs in 2015 and shut them out in Game 1 of this year's ALCS, entering Game 5 he also enjoyed a 1.09 ERA in 57 career innings against them.
With the series tied two games to two and Keuchel on the mound, the Astros had to feel good about their chances of flipping the momentum back in their favor and heading home for Game 6 firmly in control. Instead, the Yankees finally got to the talented lefty, scoring a decisive 5-0 victory and moving one game away from wrapping up the pennant.
Much has been made and will continue to be made about the rapid progression of New York's Baby Bombers, and Greg Bird, Aaron Judge, and Gary Sanchez all delivered big hits and were instrumental in driving Keuchel out of the game after just 4 2/3 innings. These big moments and experiences should pay dividends for this group going forward, as they are getting a taste of October baseball far quicker than I ever imagined they would.
But even more impressive was the performance of the man who is often matched up against Keuchel in these pivotal contests, Masahiro Tanaka. Despite pitching respectably, Tanaka has been on the losing end in each of his previous postseason starts versus Keuchel and the Astros. On this night though, he struck out eight in seven masterful innings, effectively working out of a few tight spots and keeping Houston's dangerous lineup at bay.
That has been the unexpected story of this series, Yankee pitching limited an Astros team that led the majors in runs (896), average (.282), and OPS (.823) to nine runs through five games. Even more surprising given the damage they inflicted on the Red Sox in the previous round of the playoffs.
Momentum is a funny thing in baseball, and though it appears that it is in NY's favor at the moment, there is still the task of beating Justin Verlander in Game 6. This will be no easy task, as Verlander himself has been on a bit of a roll since joining Houston and struck out 13 Yankees in Game 2.
Still, after getting by Keuchel, nothing feels like out of the realm of possibility for this group.