Yankees revert back to form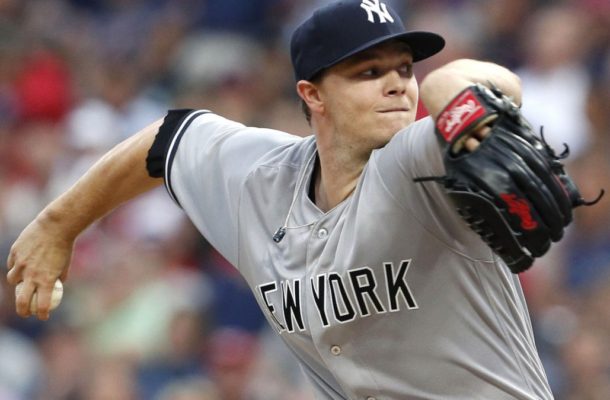 It's hard to believe that it was only a year ago that the New York Yankees, mired in a terrible season, traded away high-profile assets like Aroldis Chapman and Andrew Miller in deals that shot some much-needed life into a middling organization and immediately transformed its farm system into one of the strongest in all of baseball.
Building from the ground up for the first time in since the 90's, at the outset this year looked to be a transition campaign for the Bombers. The plan seemed to be (I think), that youngsters like Gary Sanchez, Aaron Judge, and Luis Severino would gain experience in 2017 and combine with all that rich youth they've accumulated to create something special in 2018 or 2019.
Instead, partly due to the emergence/domination of Judge and Severino, and bounce back season's from a host of veterans, B-Cashman decided to roll the dice and bring in some players to help make the playoffs a reality this October.
After weeks of speculation, the Yankees finally got their guy at the deadline as they acquired Sonny Gray from the Oakland Athletics. The price for Gray sounded like it was going to be steep, but in the end, the Yankees didn't mortgage their top prospects to get the right-handed starter.
Not only does Gray immediately improve the starting rotation now, he's still under contract until 2020. The fact that he's only 27 years of age can't be overlooked either, as he could fit nicely into the squad's long-term plans.
Prior to securing the services of Gray, the Yankees bolstered their rotation with the addition of left-handed starter Jaime Garcia from the Minnesota Twins. They also brought in third baseman Todd Frazier and pitchers David Robertson and Tommy Kahnle in exchange for pitchers Tyler Clippard and Ian Clarkin as well as outfielders Blake Rutherford and Tito Polo.
Not only did the Yankees manage to fill holes in their lineup and the rotation, they did so without letting go of any of their top prospects, something very 'un-Yankee-like' and something that I feared when the A's rumored price tag for Gray was floated out there.
I almost hate to admit it, but after years of disappointment and piss poor moves, in back-to-back season's now Cashman has managed to make great decisions at the deadline.
Maintaining a vision of the future while supplementing the roster with key veterans was accomplished, and with only a few bad contracts remaining on the books, the Yankees have the pieces in place again to be relevant for many years to come.